Financing Your New Heating & Cooling System
Purchasing and installing a new air conditioner or heater is a big home improvement project. Our comfort care advisors will recommend solutions specific to your needs. After selecting the right HVAC system for you, our financing program can help break up the total cost into manageable monthly payments.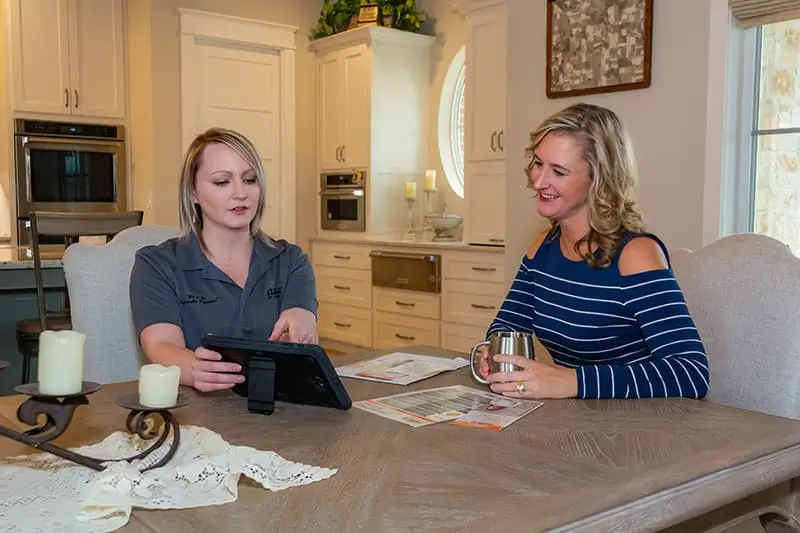 What HVAC System Should I Buy?
It's easy to think about upfront savings on such a large purchase. However, when you look at your budget, consider the ability to purchase a system that not only meets your home's basic heating and cooling needs but runs efficiently to save you money across the system's entire lifespan.
The type of building you own and who occupies it are both factors in deciding which type of system would be best suited to your needs. A ductless system, for instance, is up to 30% more efficient than a traditional HVAC system but can be more costly upfront.
Don't let your home or business go without a reliable heating and cooling system. Your building's residents should be comfortable in the winter and safe in the summer. Reach out to Advent Air Conditioning, Inc. to consult with an honest and informed HVAC technician on what your financing options are and what system will best serve your needs. Call (469) 240-5456 to schedule an estimate and installation today!
Benefits of Financing Your HVAC System
For many homeowners, buying a new HVAC system is a significant purchase that they may not be able to afford to pay all at one time. HVAC financing can provide a number of benefits to homeowners who need and are ready to purchase a new heating and cooling system.
YOU DON'T HAVE TO WAIT
With HVAC financing you don't have to wait to replace your aging heating and cooling equipment that is no longer keeping you comfortable.
GET THE SYSTEM YOU WANT
Financing options help homeowners get the high-quality system they deserve. No need to compromise due to finances.
REDUCE STRESS
With a fast and simple application process, HVAC financing helps reduce the stress of purchasing a new heating and cooling system.
HVAC financing allows you to purchase the home comfort solutions you deserve now while paying over time. When you're ready for a new HVAC system, call (469) 240-5456 to get help finding the right one.
Should I Repair My HVAC Unit or Buy a New One?
Many customers ask when it's time to stop with repairs and to purchase a new HVAC system. There are three telltale signs that it's time to start considering replacing your heating or cooling system.
Repairs Cost More than a New System

Believe it or not, repairs can take more time and/or be more costly than installing an entirely new system or component to your HVAC system. Parts become harder to find and previous repairs can be complicated and questionable. This can cause contractors and homeowners more trouble than it's worth.

Continued Malfunctions and Failures

Even if a single repair costs less than a new system, the moment repairs start to add up, the decision to upgrade becomes much more appealing. Not only will a new system give you peace of mind, but it's a more fruitful, long-term investment than a simple repair to a failing system.

Your System is 10 Years Old or Older

10 years is the time when HVAC systems start to really show the signs of aging. This doesn't mean that systems can't last for 20 years, but it's certainly the time to be on red alert when your energy bills start to rise or your system starts to fail. Rather than put your money into a less modern and efficient system, it's time to upgrade.